Kenzi RIBOULET-ZEMOULI
Barcelona-based independent researcher.
Co-founder of the non-profit NORML France, and the think-tank FAAAT.
Human rights-components, ethics, and sustainability of legally-regulated settings related to the use, marketing, and production of controlled plants/products/substances.
Upgrading public action on psychoactive substances:
Resilient policies. Sustainable planet.
Born in France, raised around the Mediterranean and now based in Barcelona (Catalonia, Spain), Kenzi is a French-Algerian multidisciplinary researcher and advocate for sustainable drug policy reforms.
Focused on Action research (the match of scholars and citizens) as a catalyzer for legal and social changes, Kenzi has been particularly involved in studying alternative pathways for Cannabis policy reform, linking international law with local grassroot initiatives. He anchors his work on the ethics, human rights aspects, fair trade components, and criteria of sustainability of legally-regulated use, production and marketing of controlled plants, products or substances.
"Drugs don't deserve drug policy. What is needed to "control" drugs and reduce harms are sensible healthcare, poverty, social, educational, geopolitical, security and development policies that integrate drug-related factors. But certainly not sui generis drug policies."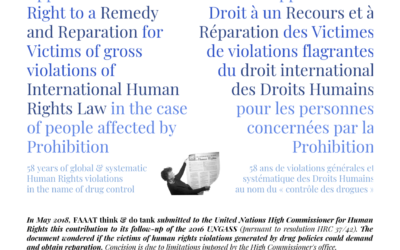 58 ans de violations générales et systématique des Droits Humains au nom du « contrôle des drogues ». Traduction de la Contribution au rapport du Haut Commissaire aux Droits Humains des Nations Unites, en application de la resolution CDH 37/42.
62nd Commission on Narcotic Drugs
United Nations, Vienna, Austria
14 March 2019
Statement to the plenary on item 9(c): International Narcotics Control Board
International Cannabis Policy Conference, Special UN event
United Nations, Vienna, Austria
7 December 2018
Cannabis: Next steps for the Commission on Narcotic Drugs.
II Fòrum de Associacions i Clubs de Cànnabis de Catalunya
Universitat Autònoma de Barcelona, Bellaterra, Spain
23 November 2018
Actualitat social, política i legal del fenomen dels CSC: De la política internacional a la realitat catalana
Open Session of the 41st meeting of the Expert Committee on Drug Dependence
World Health Organization, Geneva, Switzerland
12 November 2018
Statement to the Experts of THE 41 ST MEETING OF THE ECDD
Cultiva HanfKongress
Pyramid, Vienna, Austria
12 October 2018
Cannabis within the UN treaties: are changes finally coming?
Cannabis Box Forum
Expogrow, Irún, Spain
15 September 2018
REGULACIÓN del CANNABIS al INTERNACIONAL
It's about the future in patient care – how Cannabis will change medical care
Columbia University Global Center, PARIS, FRANCE
12 SEPTEMBER 2018
Access issues: rights, policy & regulation
EUROPEAN INDUSTRIAL HEMP ASSOCIATION 15TH CONFERENCE
COLOGNE, GERMANY
13 JUNE 2018
Cannabidiol and Cannabis Related Substances: a Brief Update on WHO/UN Review Process
Société Civile et Politiques Cannabis, Drug Policy Encounters
Geneva, Switzerland
9 June 2018
Pieces of history and pathways for the future of Cannabis scheduling internationally
European Youth Event 2018
European Parliament, Strasbourg, FRANCE
2 June 2018
Debate. Marijuana: Smells like teen spirit – or escape from reality?
II Congrés CannabMed
CCCB, Barcelona, Spain
13 May 2018
UN PUENTE ENTRE LA MEDICINA CANNÁBICA Y LOS PACIENTES: Perspectiva Internacional
International symposium on prospects for development and growth in the rural cannabis cultivating areas of the Moroccan central Riff
Mohammed VI center, Chefchaouen, Morocco
30 April 2017
Normalisation du Cannabis: l'instrument indispensable pour des politiques de développement socio-économiques inclusives et durables
SUPPORT TREATY SCHEDULING WORK
Since 2016, the World Health Organization (WHO) has been mandated to assess and update the placement of Cannabis within the International Drug Control Conventions (IDCC). While this process presents an important number of positive opportunities (in particular to clarify and more explicitly exempt hemp and CBD products from the provisions of the IDCC) there are also some risks linked to the complexity of Cannabis plant and its derivatives. This process has also been the occasion of a renewed dialogue between the United Nations system, and the European Union currently undergoing its own revision of hemp and CBD policies.
To support the work of Michael Krawitz and Kenzi Riboulet-Zemouli of the DRCNet Foundation Inc. (independent researchers and policy advocates, with permanent observer status to the United Nations) focused on accompanying the WHO review process and the changes in the scope of IDCC-controls implied, you can donate. Please use the contact form below.